Unity Spirit Purpose
Friday 27 September 6.15pm - 9pm
In these turbulent and challenging times, we are faced with global issues that often seem too large and beyond our abilities to deal with.
Vitally, our capacity to be able to do so, depends not only on our outer, but our inner resilience on both personal and collective levels.

In searching for such inner calm and strength, people are turning to mindfulness, yoga and other sacred spiritual practices.

This inaugural USP event will offer empowering insights for actions people can take in order to live from a deeper, more connected and trusting place in their everyday lives.

From their own experiences, our speakers will share how their own spiritual practices supports them in the way they choose to live and contribute in the world today.

They will also share how with love, trust, honour and integrity, we can all link up and lift up, to move beyond fear into a more enlightened and fulfilled way of life,

Please come and and join us and let's see together how we can build a field of unity, spirit and purpose, creating hope for all.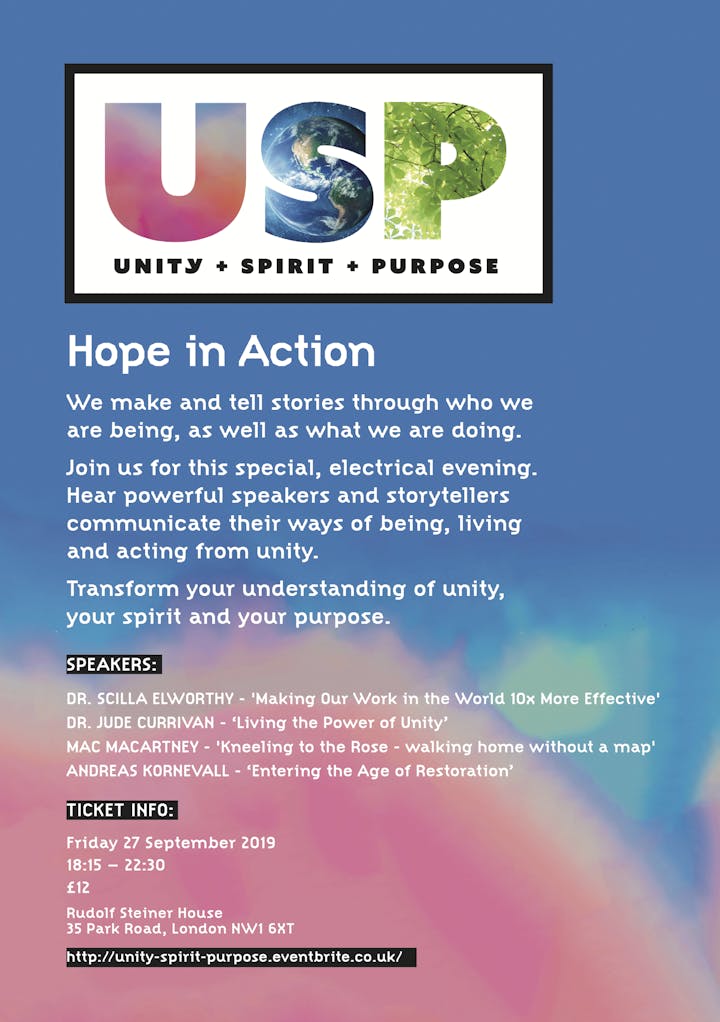 SCHEDULE:

Doors open 18.15

Talks begin 19.00

Talks ending 21.30

After event drinks and social until 22.30

QUERIES:

weareunitycommunity@gmail.com

Unity-Spirit-Purpose: Inspired by Ted Talks but including those missing parts of Unity, Spirit, and Purpose.

Looking forward we anticipate that this event will be the start of many regular and international events under the USP banner. A wave of spirit and spiritual conversations circling out imparting more meaning and knowledge of the sacred.